Acoustic Barriers for Data Centres
July 1, 2020 |

Barriers, Data Centres
Data is everywhere and a major part of our lives – but it is also a lot noisier than you think. Data centres have some unique problems with noise control. Every processor has a fan, hard disc arrays have fans, enclosures have fans and the rooms they are in have fans. Noisier still, data centres depend upon powerful backup generators, chillers and HVAC installations that are often outside the main building and run 24/7 just like our global data needs – data centre designs are complex.
For data centres to gain planning permission they must be designed to meet the standards set out by the Local Authority. The requirements of each LA will vary slightly but as a general rule, the noise level of the data centre must not increase the noise level of the existing background level at the location of the nearest noise sensitive location. This is generally translated to mean that the noise from the data centre must be 10dB below the existing night time background noise level at the nearest residence.
If the night time background noise level in a rural area can drop to 30dB, this will impose a stringent noise criteria on the acoustic design of the data centre. This calculation will be conducted in accordance with BS 4142:2014+A1:2019 Methods for rating and assessing industrial and commercial sound
Without professional noise control measures, a slew of complications usually arise. Local residents suffer from noise pollution and quality of life, while employees may suffer long term hearing damage. Both have been known to sue for compensation and planners become hesitant to approve new planning applications. That's a headache for an industry which needs to grow rapidly in response to enormous demand and opportunity. Post Covid-19, the need for data storage, online traffic and digital remote working is set to rise exponentially.
There are also less apparent costs. Studies have shown that employee productivity falls dramatically in high noise environments – it is literally hard to think. Although data centres have relatively few employees, turnover is high and personnel are hard to replace.
Internal Noise Reduction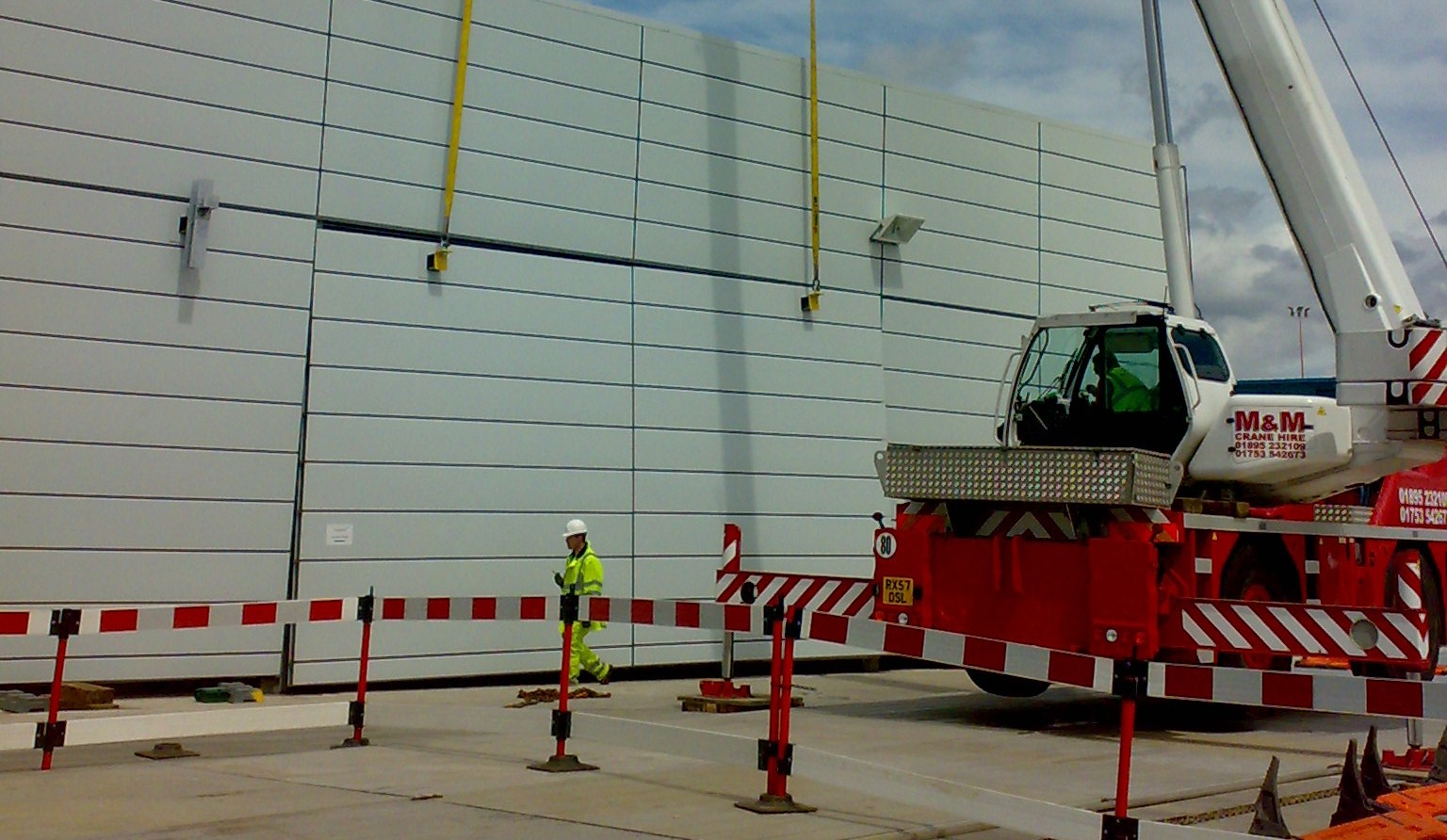 Some data centre designs consider IT solutions first and acoustic engineering second. For example, better water cooling for the processors can allow server fans to run at a lower speed. While this may help, the cost and labour involved in modifying all the servers and drive arrays is rarely a good investment from a cost/benefit point of view. Some centres have tried deploying active noise cancellation inside every enclosure, but again that means additional overheads that are only addressing a single source of noise.
Replacing less powerful servers and disk arrays with larger ones will simplify some local noise control problems but also leads to more capacity redundancy which, in turn, means running more noise generating compressors and generators than strictly necessary for the centre's data load.
A study of data centres commissioned by the Croatian national power company Hrvatska Elektroprivreda determined that many data centres peak above the 80dB allowed by current EU regulations, and the main source of noise internally is caused by the cool air ventilation ducts. Server and enclosure fans only rank second.
Redesigning vents, ducts and airflow can help, but the degree of improvement possible before cooling efficiency is impacted may be marginal. Internal sound absorbing materials can make a significant improvement but have drawbacks of disruption if retrospectively fitted, further impact on heat insulation and stringent fire safety requirements.
IAC's range of Noise-Lock® Acoustic doors & doorsets, glazed screens and absorptive panels can help to contain noise both internally and externally. However in the final analysis, while internal noise suppression is often essential for staff comfort and protection, external noise mitigation is still required. For the great majority of data centres, IAC Acoustics can provide external acoustic enclosures and acoustic barriers that offer further sound insulation measures.
External Noise Containment
Experienced noise control professionals such as IAC Acoustics always take a cost/benefit perspective. A host of noise reduction improvements can be made in data centres but choosing the right design strategy at the outset is vital in order to maximise the improvement while minimising time, cost and inconvenience. With 70 years of experience to draw upon, IAC Acoustics has both the products and knowledge to deliver measurable results.
The main external sources of data centre noise are generators and HVAC air handling equipment. Generators for data centres are significant in size – a 3MW diesel generator and its container can weigh as much as 60 tonnes. A typical modern centre may have around six or more.
Generators are not only noisy overall, but also prone to emitting frequencies that neighbours find particularly irksome. In addition to the low growl of heavy equipment, complaints about penetrating "whining" noises are common. Therefore, the solution must be able to tackle a broad range of frequencies. IAC Acoustic solutions can be tailored to the specific frequency profile that your site experiences.
Apple's planned data centre in Athenry was significantly delayed by concern that the noise would be destructive to local wildlife and has since been cancelled completely. CyrusOne's expansion plans in Arizona have apparently been thwarted by local complaints about rattling windows and a constant buzz like mosquitoes. Data centres in France and Canada have also been forestalled by activist groups and government interventions. Locating developments further from centres of habitation replaces one problem with another – attracting and retaining staff.
While hosting companies and data centres like to boast that they are "green" in terms of energy efficiency, very few can boast they are environmentally friendly in terms of noise pollution.
Although IAC Acoustics has preconfigured and tested noise control products, every solution is tailored for the client's site and takes into account landscaping, the proximity of neighbours and plant access requirements. Acoustic barriers can be erected around the source of noise, but can also be deployed in key landscape locations. In either case, their installation causes minimal disturbance to the functioning of the centre. The modular products are easy to relocate at a later date if site usage changes.
Additionally HVAC installations and chillers are often a challenge. Free airflow is obviously vital for this equipment so solid-walled enclosures are unacceptable. Purpose-designed sound absorbing acoustic louvre walls which balance airflow volumes with acoustics, provide further noise mitigation solutions. Additional reductions, if needed, can be achieved by fitting fan mounted silencers.
A further consideration for stand-by power generators is airflow and cooling when acoustically enclosed. IAC has conducted CFD studies to ensure the noise control solution does not negatively impact the functionality and performance of the generator sets.
Designing Your Solution
Before you begin trying to modify the noise emitted from a data centre, you should have some precise measures of what your noise problems are. That is essential in order to scientifically design the right solution in advance, and then to evaluate its success after it is deployed. On an existing site, IAC Acoustics begin with an acoustic survey of the area.
If the centre has yet to be built, acoustic mapping should be part of your design process at the outset. Correct plant room design is a better strategy than trying to adjust the noise it generates after you have built it. Acoustic enclosures constructed from modular acoustic Noise-Lock® panels can be far lighter in construction and hold a significant flexibility advantage over traditional build solutions.
Airflow, access, fire safety and energy conservation are all elements in the ideal solution. Enabling all these considerations to work together is part of the job description for skilled acoustic engineers.
The number and the size of data centres has seen exponential growth and that growth is far from over; 5G, the Internet of Things, and driverless cars are all expected to generate heavy new demand, augmented by the future changes to commerce in a post Covid-19 world. Ultimately this all leads to more data centres, generators, chillers, compressors, fans and ductwork to manage noise control solutions for.
IAC Acoustics can solve noise problems before they occur, helping you to acquire planning consent, local goodwill, and deliver effective project noise control solutions as part of the original design intent.
Scott Simmons
+44 (0) 1962 873018